USB Flash Drives Copy Protection...
Copy protection for USB flash drives is much more than a copy protection system. It includes features that turn USB flash drives into powerful publishing media. While providing top of the line security for your business profits and data, it also makes your product remarkably safe and user-friendly.

The core functionality of USB Copy Protection is hardware based, providing the highest protection level. Strong anti-copy protection for software and data tightly binds your files to the USB flash drive hardware and makes it virtually inseparable. Sophisticated anti-cracking countermeasures and complex security schemes make copy protection technology an extremely tough nut even for the most experienced pirates. Software level features further control use rights such as printing, copy-paste, limited time use and more.

Read-only USB configurations write protect your flash drives in hardware, prevent deliberate or accidental delete, format or change of your data and effectively protect your flash drives against viruses and malware infections. CD-ROM partition, user reserved data area, and true Autorun / Autoplay functionality further enhance your customers' usage experience.
Products...

TSFD Protection Toolkit
Video Guides
TCPS Duplicator
TSFD Publisher
The world's first USB Flash Drive specifically built for publishing. The ideal solution for software, documents and multimedia publications.
Copy Protection & DRM, ROM Partitions, Time Limits/ Expiry Date, Encryption, Custom Design, Fast Production.
All the security & DRM features you will ever need - copy protection, time limits(self destructed data), global/on-acess passwords, lock data to computer/user/domain, print and copy & paste rights control and much more.
Prevent unauthorized access to your documents, drawings, videos and other sensitive data.
TSFD Publisher is a sophisticated USB flash drive that contains built in security enhancements such as copy protection. Unlike standard USB flash drives, the TSFD includes a powerful internal microcontroller, which is programmed to secure the content stored on it.
TSFD is a powerful hardware based copy protection solution for securing software, documents, multimedia files, and other digital content. One of the major advantages the TSFD has comparing to traditional dongles is its huge memory capacity, ranging from 4GB to 64GB. This allows publishers to distribute their product on the TSFD itself, together with any accompanying such as documentations, and video guides.
Features
Software copy protection
Apply strong anti-copy, anti-debug, code obfuscation & encryption for native code EXE, .NET programs, and WPF applications. Easily toggle wide range of security features: access control, limit number of hosts, limit use time, and much more. Silent protection – fully transparent to end users. Easily applied in minutes, no programming skills required whatsoever.
Data protection
Copy protect almost any data type including PDF documents, images, video, audio, html web pages, and even your own proprietary file formats. Outstanding protection technology that efficiently locks your data, control use rights such as save-as, printing, copy-paste, and time limits – whether the data files are used by your proprietary software, or distributed alone for use with common 3rd party software such as Adobe Reader, media players and internet browsers.
Read-only & malware protection
Write protection in hardware is the safest way to prevent end users from deleting, modifying and even formatting your data. It is also the perfect solution to protect your files against viruses and other malware infections. The write protection applied by TrusCont is device, file system, and OS independent. Your data is totally safe no matter where it is used. You can also partition the unused memory of the flash drive for end users' general purpose use, and facilitate secure updates for your own protected data.
CD/DVD/BD-ROM Emulation & Autoplay
CD/DVD Emulation makes your flash drive behave as a CD/DVD medium. It enables true Autorun / Autoplay functionality also on older operating systems such as Windows XP and Vista. A Perfect solution for quickly porting games, software, and multimedia applications distributed on CDs and DVDs to copy protected & secure USB flash drives. You can also partition the unused memory of the flash drive for end users' general purpose use, and facilitate secure updates of your titles.
Secure updates
TrusCont USB Copy Protection includes a versatile update mechanism. You can update flash drives at hand, and also remotely update flash drives that were already sent to customers. The updates can be generic, or selective to specific products or customers. Setting overwrite permission passwords in advance allows you to securely update also write protected flash drives.
Supported File Types
PDF, XML, TXT Documents
Executable Programs (Copy protection for .NET program files, including WPF applications – probably the only true copy protection solution for .NET software.)
BMP, JPG, GIF and PNG Pictures and Photos
Audio Formats(MP3, WAV, WMA, etc.)
Video File Formats(MP4, M4V, MOV, MPEG, FLV, MKV and other video file formats.)
Multimedia Files
Elearning Content
Adobe Flash Interactive Content
Video Lectures
Protecting multimedia contents such as e-learning materials, video guides, tutorials, technical publications, animations, presentations, and drawings in India. Software protection, Prevent software piracy. Data protection, Protect data files such as PDF, MP4, HTML. Block save-as, control printing, copy-paste and more.
TSFD Protection Software
Use this software for protecting and duplicating data on ready secure flash drive and compatible standard flash drives. The TSFD Protection Toolkit duplicates flash drives one at a time. You can still connect multiple flash drives. The software will automatically protect and duplicate the connected flash drives sequentially.
TSFD Protection Toolkit allow you to encrypt and protect almost any data type including EXE, PDF documents, HTML pages, flash applications and SWF, image files (PNG, JPG, GIF, etc.), audio & video files (MP3, MP4, WMA, WAV, OGG, AVI, MPG, WMV, ASF, FLV, etc.) and many other file formats. You can even protect your own proprietary file formats.
FAQ
Which file types can be protected with TrusCont?
Almost any data type including EXE, PDF documents, HTML pages, flash applications and SWF, image files (PNG, JPG, GIF, etc.), audio & video files (MP3, MP4, WMA, WAV, OGG, AVI, MPG, WMV, ASF, FLV, etc.) and many other file formats. You can even protect your own proprietary file formats.
Where can I get compatible flash drives?
TrusCont offer TrusCont Secure Flash Drives which provide the highest protection level and full compatibility to all the features of TrusCont USB Copy Protection. If you already have your own flash drives you can use TrusCont software to check if your flash drives are compatible.
Can TrusCont supply Secure Flash Drives with my company/product logo?
Yes. TrusCont offer a wide selection of TrusCont Secure Flash Drive (TSFD) models and custom logo printing. The custom logo can be laser engraved or printed in color. Models and MOQ for customizations available are here.
Does TrusCont offer data duplication/preloading services?
Yes. TrusCont offer copy protection and data pre-loading services free of charge for customers that purchase the flash drives directly from TrusCont.
Does TrusCont USB Copy Protection require any software driver installation?
No. TrusCont USB Copy Protection doesn't require the end user to manually install any driver or use special viewer to access the protected files. It loads automatically and grants access to the protected data without requiring any user intervention.
Does TrusCont protected flash drives require admin rights?
Most TrusCont USB Copy Protection features don't require admin rights. However, if you chose to protect software or data files on a CD Emulated Partition admin rights may be required only for the first use of the flash drive on each PC due to the default CD/DVD direct access rights in Windows operating systems.
Getting Started

Quick start guide
A one page guide for quickly protecting software and data files on USB flash drives with the TSFD Protection Toolkit using the basic default settings.
Download
How to use Secure Flash Drive and TSFD Protection Toolkit?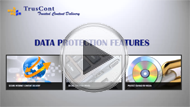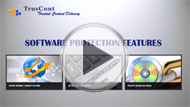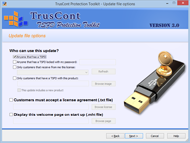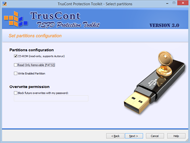 Duplication Services
CD/DVD/USB/SD/microSD card Duplication, printing, packaging
Looking for a complete production service? Not a problem, upload your data and we will protect it, duplicate on your preferred media, print, package, and ship directly to your doorstep.
How Does It Work?
The copy protection process is extremely simple. The minimum requirements are blank TSFDs and a standard computer. Here is what you need to do:
Buy blank Secure USB Flash Drive
Download the free software (TSFD Protection Toolkit)
Use the software to protect and record your files to the blank Secure USB Flash Drives
The TSFD Protection Toolkit encodes your files and links them to the internal controller of the TSFD so your customers cannot make illegal copies of your files. You can also control many advanced security and DRM options. See the TSFD Protection Toolkit page for additional information.