TSFD Protection Toolkit - Software Toolkit, USB Protection, Secure Flash Drive...
Use this software for protecting and duplicating data on compatible flash drives. The TSFD Protection Toolkit duplicates flash drives one at a time. You can still connect multiple flash drives. The software will automatically protect and duplicate the connected flash drives sequentially.
TSFD Protection Toolkit allow you to encrypt and protect almost any data type including EXE, PDF documents, HTML pages, flash applications and SWF, image files (PNG, JPG, GIF, etc.), audio & video files (MP3, MP4, WMA, WAV, OGG, AVI, MPG, WMV, ASF, FLV, etc.) and many other file formats. You can even protect your own proprietary file formats.
Product and Solution...
TSFD Publisher is a dongle and USB Flash Drive with up to 128 GB of storage capacity for sofware and content protection enables you to protect virtually of software, video, educational softwares, digital content, multimedia files, e-learning content and data files.
Secure Flash Drives fully support all USB copy protection features: Software & data copy protection, write protection, partitioning, CD Emulation, time limits & secure updates. Perfect solution for publishing on USB flash drives to prevent unauthorized copies, control use rights, set expiration date. Unbreakable copy protection for almost all media files. Anti-copy, Read-only USB, DRM, CD-ROM partition, Expiry date, computer binding.
TSFD Publisher are high capacity upto 128GB, high performance USB flash drives with enhanced functionality such as USB copy protection and full digital rights management. The custom USB flash drive offers a level of control and functionality which has never been seen before.
This technology works in PC computer environments and ideal for anyone who needs true cross-platform support for copy protected files on USB.
If you want files to be viewed from a flash drive, but not saved or shared this is the technology to use. There is a big difference between encryption and copy protection (learn more here) for your data. True USB Copy Protection for windows PC computers.
USB Copy Protection Solution...
Powerful hardware based security for video, audio, software and data...
Copy protection for USB flash drives is much more than a copy protection system. It includes features that turn USB flash drives into powerful publishing media. While providing top of the line security for your business profits and data, it also makes your product remarkably safe and user-friendly.

The core functionality of USB Copy Protection is hardware based, providing the highest protection level. Strong anti-copy protection for software and data tightly binds your files to the USB flash drive hardware and makes it virtually inseparable. Sophisticated anti-cracking countermeasures and complex security schemes make copy protection technology an extremely tough nut even for the most experienced pirates. Software level features further control use rights such as printing, copy-paste, limited time use and more.

Read-only USB configurations write protect your flash drives in hardware, prevent deliberate or accidental delete, format or change of your data and effectively protect your flash drives against viruses and malware infections. CD-ROM partition, user reserved data area, and true Autorun / Autoplay functionality further enhance your customers' usage experience.

USB Copy Protection includes wide range of features that allow you to protect almost any data type including EXE, PDF documents, HTML pages, flash applications and SWF, image files (PNG, JPG, GIF, etc.), audio & video files (MP3, MP4, WMA, WAV, OGG, AVI, MPG, WMV, ASF, FLV, etc.) and many other file formats. You can even protect your own proprietary file formats.
Features...
Software copy protection
Data copy protection
Read-only & malware protection
CD/DVD/BD-ROM Emulation & Autoplay
Secure updates
Supported File Types...
PDF, XML, TXT Documents
Executable Programs (Copy protection for .NET program files, including WPF applications – probably the only true copy protection solution for .NET software.)
BMP, JPG, GIF and PNG Pictures and Photos
Audio Formats(MP3, WAV, WMA, etc.)
Video File Formats(MP4, M4V, MOV, MPEG, FLV, MKV and other video file formats.)
Multimedia Files
Elearning Content
Adobe Flash Interactive Content
Video Lectures
Protecting multimedia contents such as e-learning materials, video guides, tutorials, technical publications, animations, presentations, and drawings in India. Software protection, Prevent software piracy. Data protection, Protect data files such as PDF, MP4, HTML. Block save-as, control printing, copy-paste and more.
Getting Started...

Quick start guide...
A one page guide for quickly protecting software and data files on CDs and DVDs with the DVD Protection Toolkit using the basic default settings.
Download
How to use TSFD Protection Toolkit?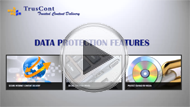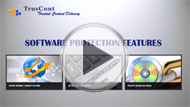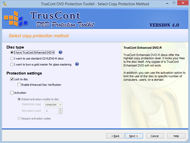 CD/DVD/USB/SD/microSD card Duplication, printing, packaging
Looking for a complete production service? Not a problem, upload your data and we will protect it, duplicate on your preferred media, print, package, and ship directly to your doorstep.
How Does It Work?
The copy protection process is extremely simple. The minimum requirements are blank TSFDs and a standard computer. Here is what you need to do:
Buy Enhanced DVD-R from us OR use any standard CD or DVD
Download the free software (DVD Protection Toolkit)
Use the software to protect and record your files to the blank DVD media
The DVD Protection Toolkit encodes your files and locks them to the DVD media so your customers cannot make illegal copies of your files. You can also control many advanced security and DRM options.