USB Copy Protection: usb pen drive copy protection
Copy protection usb flash drive is much more than a flash drive copy protection. It includes features that turn usb sticks into powerful copy protected pen drive. While providing top of the line usb drive protection for your business profits and data, it also makes your product remarkably safe and user-friendly.
USB Pen Drive Copy Protection Solutions
The core functionality of copy protection is hardware dongle, providing the highest copyright protection. Strong software protection and protect usb content tightly binds your files to the dongle key hardware and makes it virtually usb dongle protection. Protect file from copying and usb storage protector make usb stick protected an extremely tough nut even for the most experienced pirates. Software level features further control use rights such as usb copy, usb dongle clone, printing, copy-paste, limited time use and more.
Create Read-only USB configurations write protect your flash drives in hardware, prevent deliberate or accidental delete, format or change of your data and effectively write protected flash drive against viruses and malware infections. CD-ROM partition, user reserved data area, and true Autorun / Autoplay functionality further enhance your customers' usage experience.
USB Pen drive Copy Protection Features

Software protection
Software protection dongle apply strong anti-copy, anti-debug, code obfuscation & encryption for native code EXE, .NET programs, and WPF applications. Easily toggle wide range of security features: access control, limit number of hosts, limit use time, and much more. Silent protection – fully transparent to end users. Easily applied in minutes, no programming skills required whatsoever.
Read More About This Feature...

Data protection
Protect USB content/copy protect video files almost any data type including PDF documents, images, video, audio, html web pages, and even your own proprietary file formats. Outstanding protection technology that protect file from copying, locks your data, control use rights such as save-as, printing, copy-paste, and time limits – whether the data files are used by your proprietary software, or distributed alone for use with common 3rd party software such as Adobe Reader, media players and internet browsers.
Continue reading...

Read-only & malware protection
Write protection in hardware is the safest way to prevent end users from deleting, modifying and even formatting your data from write protected pen drive. It is also the perfect solution to protect your files against viruses and other malware infections. The write protection applied by TrusCont is device, file system, and OS independent. Your data is totally safe no matter where it is used. You can also partition the unused memory of the flash drive for end users' general purpose use, and facilitate secure updates for your own protected data.

CD/DVD/BD-ROM Emulation & Autoplay
CD/DVD Emulation makes your flash drive behave as a CD/DVD medium. It enables true Autorun / Autoplay functionality also on older operating systems such as Windows XP and Vista. A Perfect solution for quickly porting games, software, and multimedia applications distributed on CDs and DVDs to copy protected & secure USB flash drives. You can also partition the unused memory of the flash drive for end users' general purpose use, and facilitate secure updates of your titles.

Secure updates
TrusCont USB Copy Protection includes a versatile update mechanism. You can update flash drives at hand, and also remotely update flash drives that were already sent to customers. The updates can be generic, or selective to specific products or customers. Setting overwrite permission passwords in advance allows you to securely update also write protected flash drives. You can overwrite and protect new data unlimited number of times during a period of 12 months starting from the first write to the specific flash drive.
USB Copy Protection Tool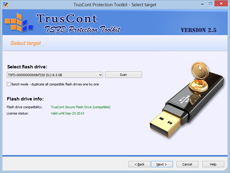 TSFD Protection Toolkit
USB protection software, use this usb lock software for protecting and duplicating data on TrusCont compatible flash drives. The usb copy protection software duplicates flash drives one at a time. Pen drive copy protection software still connect multiple flash drives. The usb data protector will automatically protect files from being copied and prevent copy from usb and duplicate the connected flash drives sequentially and creates software protection dongle from usb flash drive.
usb copy protection software free download...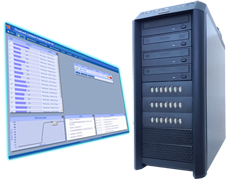 TrusCont Content Publishing Server
Also available as a software only solution
TrusCont Content Publishing Sever is flash drive duplicator software by far the most advanced powerful and comprehensive publishing solution your money can buy. It allows you to duplicate CDs, DVDs, USB Flash Drives, flash memory cards (such as microSD), and it fully supports all TrusCont copy protection products. It duplicates to all targets simultaneously and you can even duplicate both flash and optical media.
Getting Started

Quick start guide
A one page guide for quickly prevent copying from usb drive software and data files on USB flash drives with the usb drive protection software(TSFD Protection Toolkit) using the basic default settings.
Download
Copy protect files in USB flash drives and block copy
A 100% true USB protection solution program to prevent unauthorized copy and distribution for files in all types. It supports read only, write protection, CD-ROM partition, dual partition, password protect, protecting usb, protection files, illegal copy. a wide range of main media formats and assigns specific access the content to different users without internet connection.
Secure USB Flash Drive
Protect usb flash drive using secure flash drives. Actually this is a complete usb flash protected solution that turns software protection dongle from secure usb flash drive from simple usb storage protector and usb protection device cum flash drive protector to powerful publishing copy protected pen drive media files carrier.
USB Security features of secure flash drives embedded in usb sticks controller such as write protection, block copy, software protects, video files, usb copy, password protect, protecting usb, access the content, protection files, illegal copy, usb protect tool, No internet connection, read only, audio video.
USB Copy Protection File Formats
PDF, XML, TXT, HTML Documents
Executable Programs, native code EXE, .NET programs, and WPF applications, Adobe Flash EXE
PDF documents, images, video, audio, html web pages, and even your own proprietary file formats
All Video Audio Formats
MS office WORD,EXCEL,PPT Documents.
CAD, DWG drawing
DICOM (Digital Images and Communications in Medicine): DCM, DIC, IMA, NEMA
* Proprietary & and other file formats: Supports almost any data type. Easily configurable in TrusCont USB protect tool software.
* USB Copy Protection is continually updating to supported more file types. Contact us for special projects or to double check the list and find a supported proprietary file formats.