DVD Protection Toolkit - Encryption Software Toolkit, DVD Protection...
Use this software for protecting and duplicating data on CDs and DVDs. You can use either standard DVD/CD-R discs or TrusCont Enhanced DVD-R. The DVD Protection Toolkit duplicates only one disc at a time.
DVD Protection Toolkit allow you to encrypt and protect almost any data type including EXE, PDF documents, HTML pages, flash applications and SWF, image files (PNG, JPG, GIF, etc.), audio & video files (MP3, MP4, WMA, WAV, OGG, AVI, MPG, WMV, ASF, FLV, etc.) and many other file formats. You can even protect your own proprietary file formats.
Products and Solutions...
Select Your Media Type

Enhanced DVD-R
Standard CD/DVD
Replicated Enhanced DVD

Replication Services
Strong Anti-Copy protection for software and data
DVD Copy Protection provides perfect resistance to 1:1 duplication and cloning, bit-2-bit copying, virtual drives and emulators, and other known hacking, cracking and copying methods. Unprecedented performance and efficiency make it fully transparent to end users.
Select Your Media Type...
Protect software and data files on Enhanced DVD-R discs. The files are locked to the disc itself. The special disc can be used on any computer without internet connection but cannot be copied by any means.
In addition, you can also limit the use of the disc to a specific number of computers, users, or a network domain.
Features...
Software copy protection
Data copy protection
Lock-to-disc
Silent Activation
Backup copy
Supported File Types...
PDF, XML, TXT Documents
Executable Programs (Copy protection for .NET program files, including WPF applications – probably the only true copy protection solution for .NET software.)
BMP, JPG, GIF and PNG Pictures and Photos
Audio Formats(MP3, WAV, WMA, etc.)
Video File Formats(MP4, M4V, MOV, MPEG, FLV, MKV and other video file formats.)
Multimedia Files
Elearning Content
Adobe Flash Interactive Content
Video Lectures
Protecting multimedia contents such as e-learning materials, video guides, tutorials, technical publications, animations, presentations, and drawings in India. Software protection, Prevent software piracy. Data protection, Protect data files such as PDF, MP4, HTML. Block save-as, control printing, copy-paste and more.
Getting Started...

Quick start guide...
A one page guide for quickly protecting software and data files on CDs and DVDs with the DVD Protection Toolkit using the basic default settings.
Download
How to use DVD Protection Toolkit?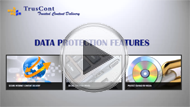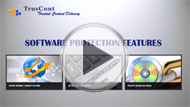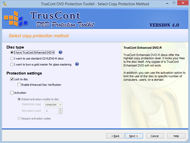 Duplication Services...
CD/DVD/USB/SD/microSD card Duplication, printing, packaging
Looking for a complete production service? Not a problem, upload your data and we will protect it, duplicate on your preferred media, print, package, and ship directly to your doorstep.
How Does It Work?
The copy protection process is extremely simple. The minimum requirements are blank TSFDs and a standard computer. Here is what you need to do:
Buy Enhanced DVD-R from us OR use any standard CD or DVD
Download the free software (DVD Protection Toolkit)
Use the software to protect and record your files to the blank DVD media
The DVD Protection Toolkit encodes your files and locks them to the DVD media so your customers cannot make illegal copies of your files. You can also control many advanced security and DRM options.